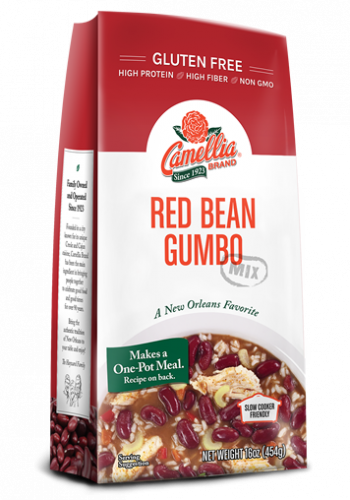 Red Bean Gumbo Seasoning Mix
All Natural
No MSG
Non-GMO
No Artificial Flavors
No Artificial Colors
Gluten-Free
Soy-Free
Vegetarian & Vegan Friendly
Gumbo is a beloved Louisiana tradition – cooked and enjoyed in homes and restaurants all over the state. And if you're looking for a foolproof way to make perfect, flavorful gumbo your whole family will enjoy, our new Red Bean Gumbo Mix makes it easy to prepare! Just add a few ingredients, and simmer on the stove or in your slow cooker. Featuring a bold seasoning packet right in the bag, this savory mix turns into a hearty, nutritious, and delicious main dish. Simply serve over hot fluffy rice, and you've got a great dinner any night of the week. Plus, it's high in fiber, gluten free, non GMO, and has no artificial ingredients.
Camellia is a trusted, family-owned New Orleans company that's been bringing you the highest-quality beans since 1923, and now we're proud to introduce Red Bean Gumbo Mix as part of a line of great-tasting dinner and soup mixes that make busy weeknight dinners simple.
Nutritional Information
close
Nutrition Facts
Serving Size: 3 tablespoons dry beans + 1 teaspoon seasoning (39g)
Number of Servings: about 11
Amount Per Serving
Calories 50
Calories from Fat 4.5
% Daily Value
Total Fat 0.5
0%
Saturated Fat 0g
0%
Trans Fat 0g
Cholesterol 0mg
0%
Sodium 240mg
10%
Total Carbohydrate 23g
7%
Dietary Fiber 6g
24%
Sugars 1g
Protein 8g
24%
*Percent Daily Values are based on a 2,000 calorie diet. Your daily values may be higher or lower depending on your calorie needs.
Ingredients
close
red kidney beans, salt, paprika and other spices including chipotle peppers, dehydrated garlic, dehydrated onion, disodium inosinate, disodium guanylate
Buy Online
Where to Buy
How To
Make It
Rinse and inspect beans.
In a large heavy pot, heat 2 tablespoons oil. Brown the chicken over high heat.
Once the chicken is brown, add the onions, celery and bell peppers.
Sauté over medium high heat for 5 minutes or until vegetables begin to soften.
Add beans, broth, and spice packet. Bring to a boil.
Reduce heat, cover and simmer 2 hours, stirring occasionally.
Add rice and simmer 30 minutes, until beans are soft and rice is cooked.
Garnish with sliced green onions if desired.
Add water or stock as necessary to obtain desired consistency.
Option to make this with our Slow Cooker recipe. 
Additional Ingredients

You'll Need:
4 boneless, skinless, chicken thighs, cut in ½ inch pieces (about 16 ounces)
2 Tbsp. olive oil
1 medium onion, chopped (about 1 cup)
2 stalks of celery, chopped (about 1 cup)
1 medium green bell pepper, chopped (about 1 cup)
2 quarts of chicken broth
¼ cup long grain rice
½ cup of green onions, sliced (optional)